Pengaruh Self effecacy Terhadap Kualitas Pengetahuan Untuk Meningkatkan Prestasi Akademik
Zulkifli Zulkifli

Sekolah Tinggi Ilmu Ekonomi Semarang
Keywords:
Self Effecacy, Kualitas Pengetahuan dan Prestasi akademik
Abstract
Abstraksi.
Konsep Penelitian ini bertujuan untuk memberikan mengetahui terkait konsep yang dapat di empirikan oleh peneliti selanjutnya terhadap model dengan variabel tingkat keyakinan dalam menyelesaikan persoalan studi, yang akan meningkatkan kualitas pengetahuan, dengan harapan mampu meningkatkan prstasi akademik.  Konsep ini merupakan tawaran konsep yang dapat dilanjutkan dalam penelitian empirik.
Abstract.
The concept of this study aims to provide a related understanding of concepts that can be empiricated by subsequent researchers of the model with a variable level of confidence in solving study problems, which will improve the quality of knowledge, with the hope of being able to increase academic performance. This concept is a concept offering that can be continued in empirical research.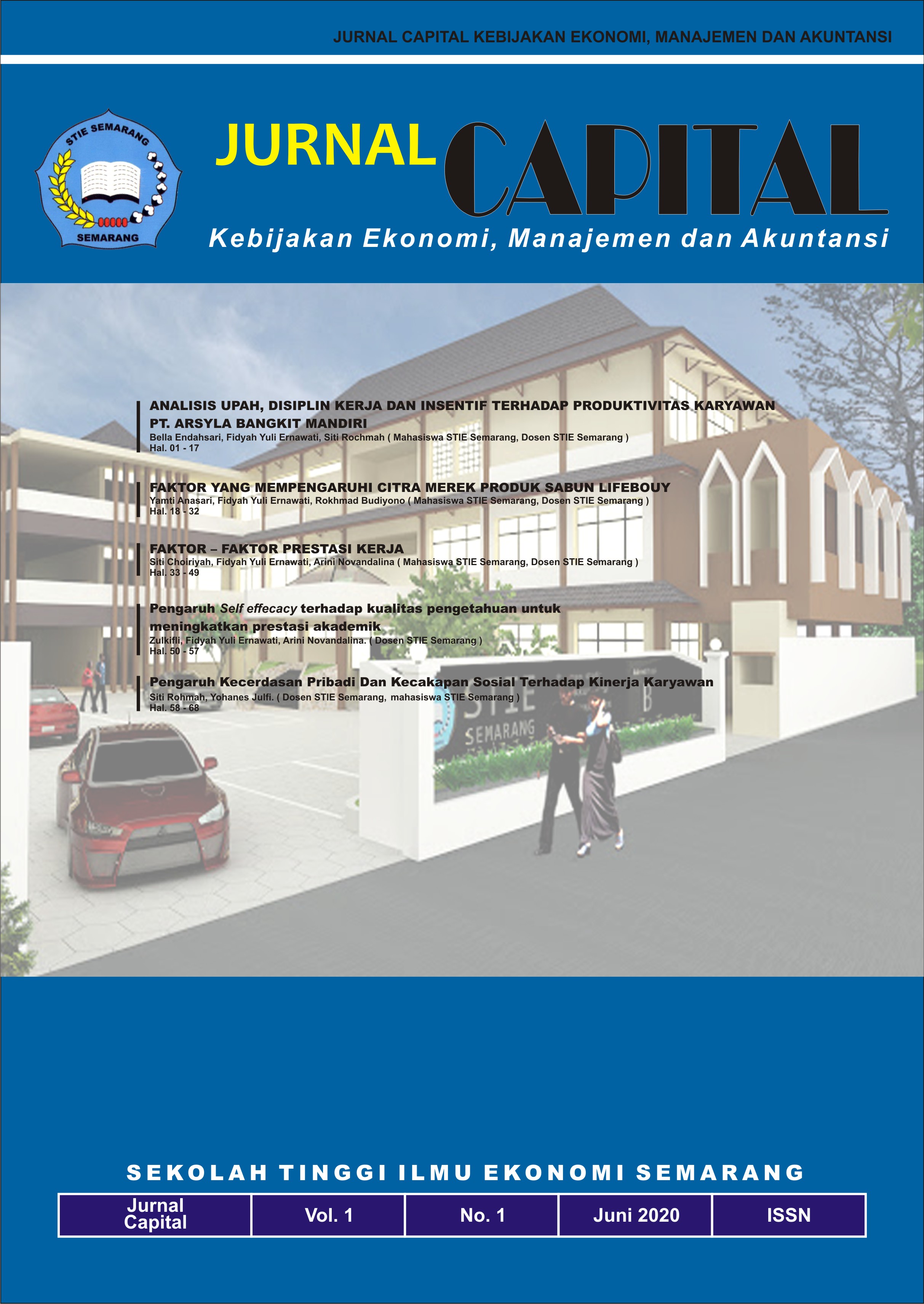 How to Cite
Zulkifli, Z. (2019). Pengaruh Self effecacy Terhadap Kualitas Pengetahuan Untuk Meningkatkan Prestasi Akademik. JURNAL CAPITAL : Kebijakan Ekonomi, Manajemen Dan Akuntansi, 1(1), 50-57. https://doi.org/10.33747/capital.v1i1.15